Ultimate Series: format, qualifiers, schedule
With StarLadder Amateur Series concluding this weekend and the total number of sign-ups coming close to the 2,000 players mark, we're proceeding to announce general details of Ultimate Series — an international tournament with a 7,000 USD prize pool, sponsored by Blizzard Entertainment.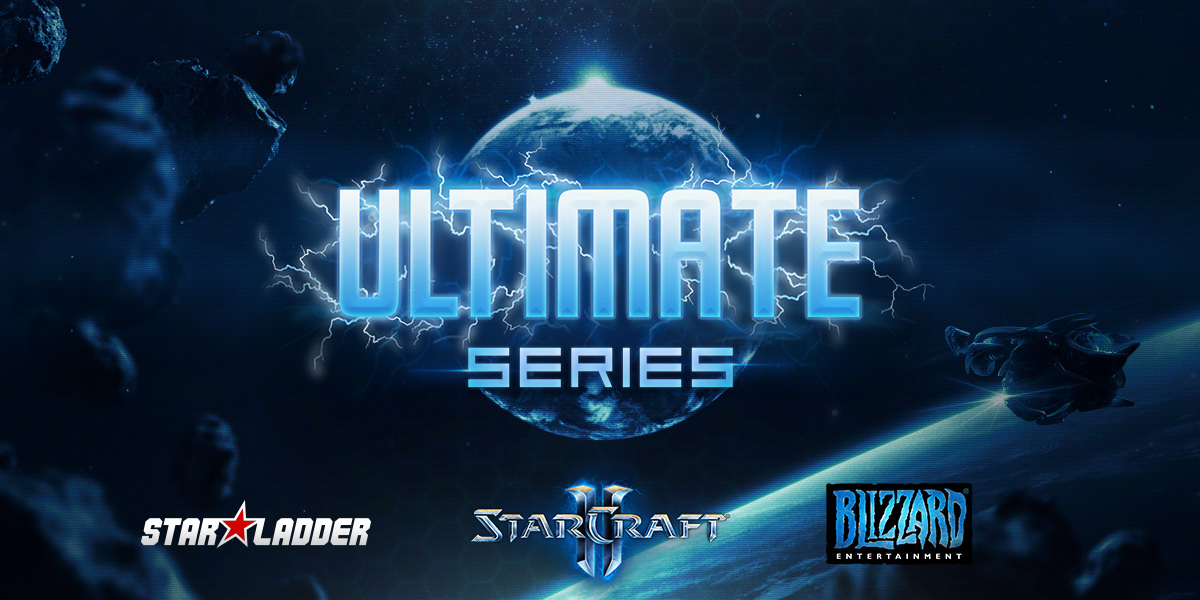 General Format
Three regional group stages held in Swiss Triple Elimination System, eight players in each of the regions (CIS, Europe, North America). Four winners of each regional group stage advance to global playoff.
Participants
Four players are invited into each regional groups stage. For CIS region, Ultimate Series 2018 Season 1 Round of 4 finishers are invited. For EU and NA, current WCS Challenger Round of 4 finishers are invited. If anybody rejects the opportunity, players among Round of 8 finishers of corresponding tournament will be chosen as a replacement.
Current invites status:
CIS — Rail (Accepted), BratOK (Accepted), HellraiseR (Accepted), Kas (Accepted)
EU — Serral (Pending), Elazer (Pending), Lambo (Pending), uThermal (Pending)
NA — Neeb (Pending), Scarlett (Pending), TRUE (Accepted), MaSa (Accepted)
Prize Pool
7,000 USD is spread between all 24 participants as following:
1st place: 2,000 USD
2nd place: 800 USD
3rd-4th places: 500 USD
5th-8th places: 300 USD
9th-12th places: 200 USD
13th-24th places: 100 USD
Note that prizes for participation are paid for the players to compete according to the schedule set by organizers and for always showing up in time. No games will be casted by replays. Please don't sign up for the tournament if you might be unable to follow the schedule.
Qualifiers
Amateur Series Grandmaster league held at sc2.starladder.com is the qualifier for the Ultimate Series. To sign up for the qualifiers, you need to speak Russian (CIS region) or be eligible for European (EU region) / North American (NA region) WCS Challenger while also having an active in-game Grandmaster league account on the corresponding StarCraft II server. Follow our detailed step-by-step player guide if you have any difficulties.
Amateur Series GM will be held on the weekend of September 15th-16th and will consist of (up to four) GSL group rounds. Four winners of each regional Amateur Series Grandmaster league will be invited to the corresponding Ultimate Series.
NOTE: If you have earlier participated in WESG qualifiers organized by StarLadder, you might have some technical difficulties while signing up on our website as our Battle.net API integration has changed since then. Please don't hesitate to contact us via [email protected] (or Alex007 personally via Twitter @Alex007UA, DMs are open) — we'll make sure to assist you.
Schedule
Current Amateur Series Grandmaster Stage (Ultimate Series qualifiers) schedule looks as following (CEST time zone):
| | | | | |
| --- | --- | --- | --- | --- |
| Region | Ro64 | Ro32 | Ro16 | Ro8 |
| CIS | September 15 at 14:00 | September 15 at 17:00 | September 16 at 14:00 | September 16 at 17:00 |
| EU | September 15 at 19:00 | September 15 at 22:00 | September 16 at 19:00 | September 16 at 23:00 |
| NA | September 16 at 00:00 | September 16 at 03:00 | September 17 at 00:00 | September 17 at 03:00 |
Ultimate Series schedule can be found via this link.
Coverage
Amateur Series is fully open for community broadcasters — just follow our instructions and you'll be good to go on September 15th. Ultimate Series coverage might be possible for major community broadcasters: if you are interested in covering Ultimate Series, please contact us via [email protected]. StarLadder will make sure to cover all tournament stages in Russian on our TwitchTV channel.
Good luck and have fun!