Here are few simple steps to register in the Amateur Series.
1. Registration. Press 'Sign In' in the upper right corner of the website and pass the registration process.
ATTENTION: Registration or loging in via Facebook is not possible anymore. If you have an old account created with Facebook — contact us via email starcraft(at)starladder.tv.
If you already have on account on other StarLadder websites (including WESG website), it is strongly recommended to use the old account instead of making a new one. If you want to change nickname — contact us, we can do it to the old account too.
2. Activation of the game. Go to the tournament page and press the 'Activate' button in the registration block to connect your Battle.net account with your StarLadder account. You can also do it in the section 'My Games' of your profile.
If you didn't take part in the StarLadder tournaments before, the system will request a regions in which you want to connect your gaming profile with your StarLadder profile. This means that the system will check your league on that server and you will be allowed to register to the tournaments in that region only.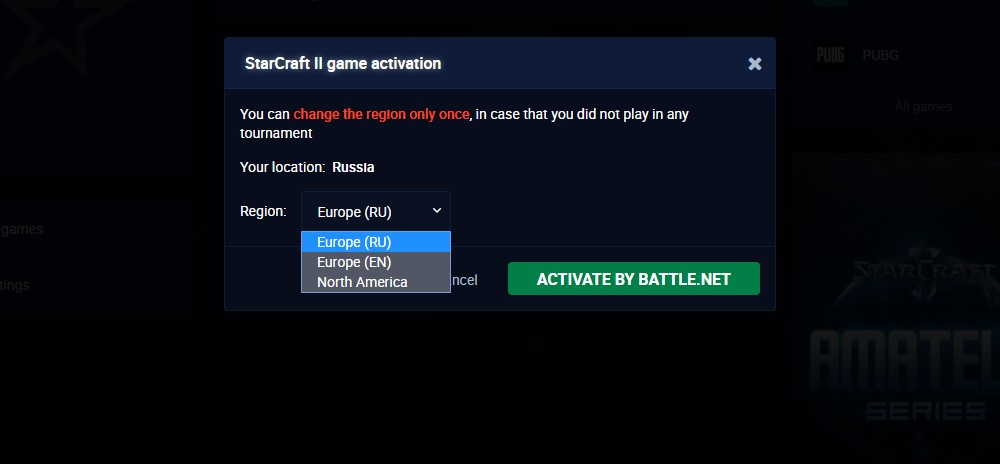 If you haven't registred to a tournament and haven't played a single match yet, you can change your region once. To do it, press 'Edit BattleTag' in the section 'My Games' of your profile:

If you made a mistake with a region and can't change it anymore — please contact admins via email [email protected], send a link to your profile and name the right region. The same can be done for the old account which may be possibly connected to the wrong region.
When you chosen the right region, press 'Activate by Battle.net'.

To activate the game, you will be forwarded to the Battle.net page — there you have to grand starladder.com access to the information of you account (game name, BattleTag, and StarCraft II profile data). Remember to mark 'Allow' — otherwise our system won't be able to get your league information and won't let you register to the tournament!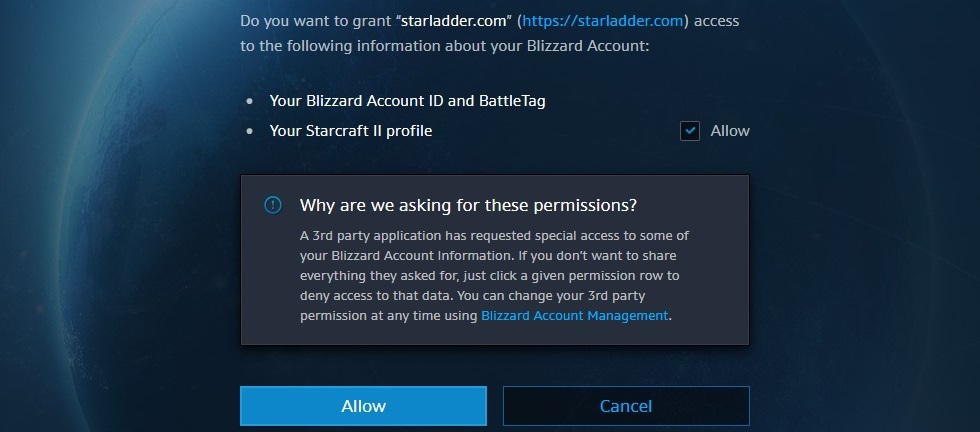 3. Joining the tournament. When you game activation is done, 'Join Tournament' button will become active. Press it.

Then you have to pick the race. You have to be qualified to the proper league with this particular race to be able to join the tournament. If not, the race will be marked as 'Not Available'.

As far as you picked the race which fits the tournament, press 'Join Tournament'. After that your participation is confirmed and you will only need to check-in in the morning before the tournament. Don't forget to do it, or you will not play!